---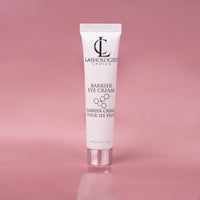 THIS PRODUCT IS NO LONGER AVAILABLE TO US. STOCK UP NOW TO AVOID DISAPPOINTMENT.
VOTED INNOVATIVE PRODUCT OF THE YEAR FOR 2018
BARRIER EYE CREAM: protect before sensitivity occurs Helps shield & smooth eye area during lashing & lash and brow tint Lashologist Choice Barrier Cream is a unique product that helps shield and sooth the skin from irritants. Created in an FDA-approved lab, the Barrier Cream uses only the finest ingredients to both calm the skin from irritation, inflammation, and reactions, as well as prevent them from even occurring. This amazing cream works by creating a protective barrier on the skin. Lashologist Choice Barrier Cream has unlimited applications as it can be used before and after any eyelash or brow process, such as extensions, tinting, perming, lifting and more.
Visit lashologistchoice.com for more information and instructional videos. Ingredients: White petrolatum, Water, Zinc oxide, Lashologist OVH, Carthamus Tinctoriusn(Safflower), Oleosomes, Aloe Barbadensis, Leaf Juice, Stearic Acid, Silica Hydrogenated Lecithin, Stearyl Glycyrrhetinate, Sodium Hyaluronate, Dicocoyl, Pentaerythrityl Disteary Citrate, Sorbitan Sesquioleate, Beeswax, Aluminum Stearates, Canola Oil, Zea Mays(Corn), Starch, Paraffin, Phenoxyethanol, Chloroxylenol, Benzethonium Chloride